If you really want your website project to be an agonizing and costly affair, the good news is that you can! Simply sabotage your project by doing a few of the following things.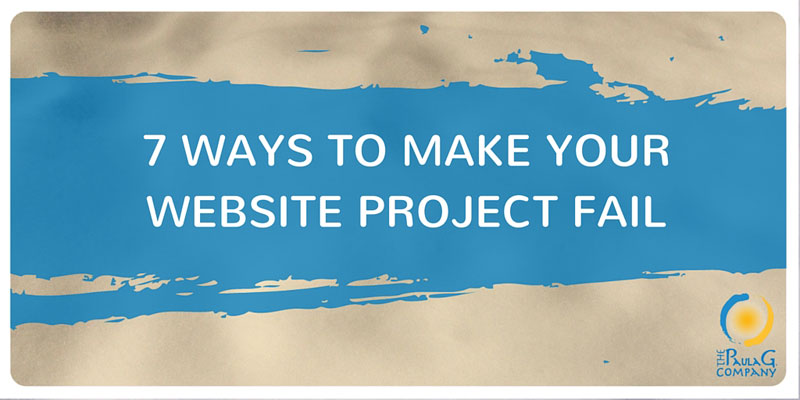 1 – Assume your designer and programmer can read your mind
Don't give them specifics about your goals and requests. Rather than clearly communicate what you want, let them flounder about trying to read your mind.
2 – Don't be available for timely responses to questions and communications
When you see an email from your web team, ignore it or let it get lost in the pile (maybe even for weeks at a time). After all, what's the rush?
3 – Do not take the time to read the scope of work or working agreement.
When you receive the project agreement sign it without reading it. What could possibly be of interest to you in there anyway? A website is a website is a website, right? Instead simply get all ticked off if you request something that isn't included and it ends up costing more.
4 – Drag your feet when it comes to providing the content/copy for your website
Procrastinate endlessly on writing your website copy. Watch as those deadlines go passing you by and then wonder why your website project isn't completed on time or incurs project delay fees.
5 – Don't provide access required to do the job
Don't be concerned if your web programmer can't access your hosting account, email marketing, or domains. Why would they need that? After all, you don't even remember where you put those logins since the last web person set it all up.
6 – Withhold payment, bounce a few checks, or play mind games with money
Your last web designer was a crook so treat your new person like one too "just in case". True professionals love being treated like the hired help. By holding their money hostage despite doing great work you are bound to enjoy delaying your site's launch while paying late payment penalties.
7 – Ask for endless revisions
Don't make decisions. Simply wonder how the same thing might look in a shade of blue that has more whimsy than the last 6 samples provided. Tweak every last bit of spacing, shading, and layout even though the changes being made no longer have any substance to them. Then, just for fun, change them back again!
The Real Truth
While this blog post is written in a tongue and cheek style, there is truth here. As a web professional for almost 20 years, I have experienced each and every one of them. The common denominator is that they all lead to unwanted outcomes ranging from minor project delays to major budget overruns to sites that fail to launch or launch and then fail.
Don't let it happen to you.
Work with someone who likes nothing more than to truly partner and collaborate with business owners to design and create a website that works for you. If you need a new website or support with an existing one, let's chat. Click here to schedule a complimentary discovery session so your website can bring you the success you deserve.