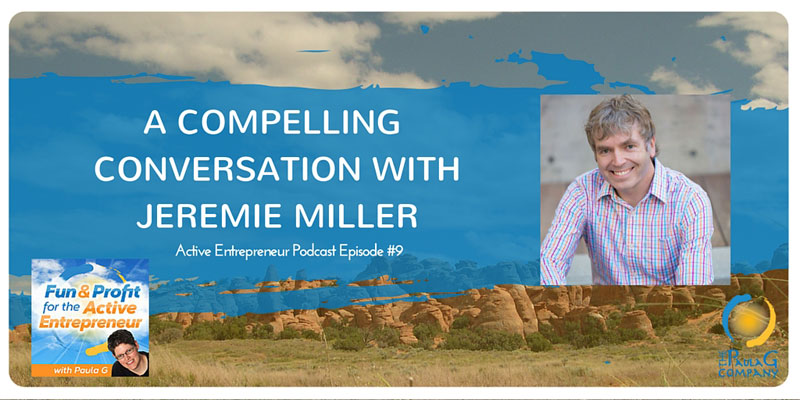 Join me as I have a lively conversation with Jeremie Miller of The Secure Entrepreneur about how business owners can create financial certainty and still have money for fun adventures and taking time off to do what you love.
Show Notes
First a little about Jeremie: Purchasing lots of toys including mountain bikes, skis, paddle boards, and backpacks, to name a few, has taught Jeremie and his family the importance (and challenges) of managing money while trying to live the life of an active entrepreneur. Jeremie's business, The Secure Entrepreneur, focuses on helping other entrepreneurs manage the important link between their personal and business finances so they can play big in their business and the great outdoors.
As you might imagine, he and I have similar interest in "toys" which is cool.  More importantly,  I am particularly happy to have Jeremie on the show because I was a part of his beta program for this work earlier this year and it has done wonders for taking the high-stress out of this entrepreneur's finances.  Even though I have always been a spreadsheet and finances geek, the way he teaches it I learned to love a budget. It has been freeing and frankly (and one might think ironically) creates more choice, not less.
Even if finances are not your thing, if you are a business owner and have ever felt some stress around finances (and if you haven't, I will come by and take your pulse) you owe it to yourself to listen in to this casual yet powerful conversation.
In the show we talked about:
How to use your business finances to fuel your personal passions
Why the way most business owners handle finances results in a big hole of pain
His cool mountain biking and other trips and adventures
You can create financial certainty even when your income fluctuates (sometimes wildly) month to month
Why having "choice" money makes budgeting freeing (even if you are still paying down debt)
Links
Transcript
Subscribe so you don't miss an episode!
Stitcher
Regular RSS Feed
Plain-ole RSS
If you have a chance, please leave an honest review of the podcast here. I really appreciate it!
Not sure how to subscribe, rate, or review? No problem! Here's a quick video tutorial of how to do just that.