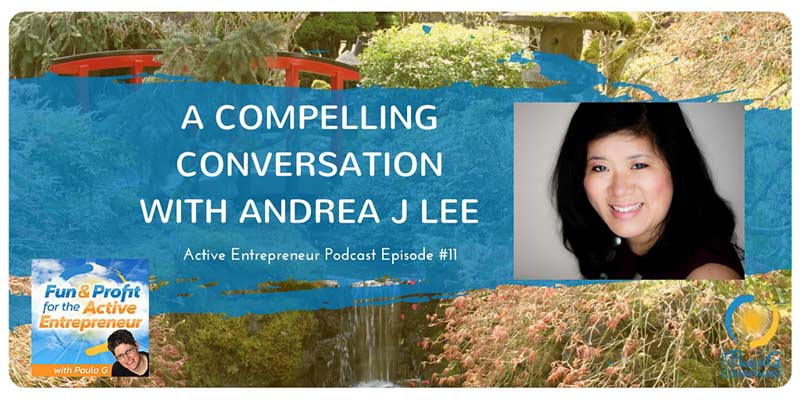 I am giddy with delight to welcome Andrea J Lee to the Active Entrepreneur Podcast.  She helped inspire me to launch the show and has had a HUGE impact on my business (and me personally).  Dive in with us as we talk about juicy topics all entrepreneurs face (and it isn't about business building!)
Show Notes
Andrea's one of the deepest-thinking, most creative and thoughtful and interesting people that I've ever had the opportunity to connect with and work with.
Andrea is founder of Thought Partners International, which does business online under the identity of Wealthy Thought Leader University—an internationally-known company that has helped thousands of entrepreneurs upturn the status quo. Through coaching they learn to prove their original business concepts, design offerings that break new ground, and sell in lucrative ways that feel good." She's also "Director of Strategic Planning for Indrani's Light Foundation—a global non-profit devoted to eradicating domestic violence, in partnership with the NGO Population Services International.
Andrea has earned a long-standing reputation for excellence and ethics as a mentor coach, trusted advisor and thought partner, but the secret is out: she's also a gifted speaker with a talent for making serious topics playful, and turning play into serious impact." I can vouch for that, really being able to create experimentation and play out of something that can often feel hard when it comes to creating a business.
Alongside her coaching team at Wealthy Thought Leader University, she's "taught breakthrough thinking to thousands of entrepreneurial leaders from the start-up phase through 6, 7 and 8 figure incomes. These audiences work in a range of fields including entertainment, technology, philanthropy, manufacturing, the performing arts, therapy, coaching, the healing arts, entrepreneurship and more." The woman has the broadest perspective on business of anyone that I personally know.
Some of the highlights of our talk include:
Andrea's new memoir about growing up in an immigrant family and her journey as a very angry young woman.
The self-abuse that entrepreneurs often put themselves through.
The distinction between purposeful (and useful) suffering (as in oyster grit = pearls) and the needless suffering that happens as a business owner.
Noticing nuances.
How if you want to earn twice as much you have to work half as much.
The new evolution of Andrea's business.
Resting in the "in-betweens" when things are changing
Being ok with "not knowing"
Related Links
Download the Transcript
Download the transcript of this conversation
Subscribe so you don't miss an episode!
Stitcher
Regular RSS Feed
Plain-ole RSS
If you have a chance, please leave an honest review of the podcast here. I really appreciate it!
Not sure how to subscribe, rate, or review? No problem! Here's a quick video tutorial of how to do just that.