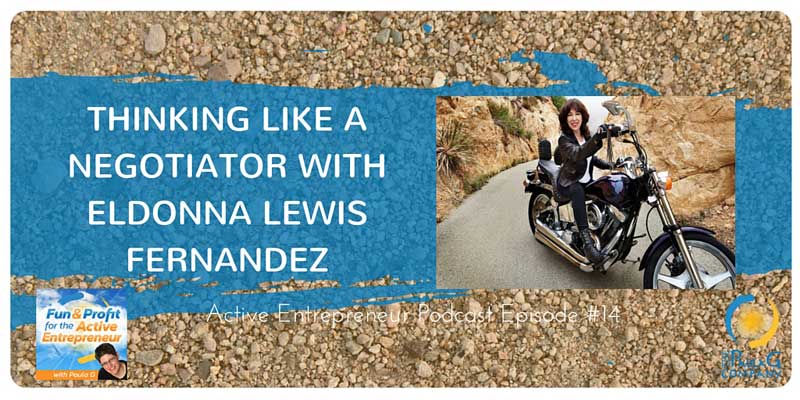 Everyone is faced with negotiation. Whether you are negotiating a contract with a client or attempting to get your lover or kids to agree on what movie to watch, you're a negotiator.  Eldonna Lewis Fernandez is an expert negotiator and superb at teaching others to think like a negotiator. A confident Harley riding, retired Air Force veteran, Eldonna is one fun, talented, and experienced woman.  We have a great time discussing negotiation and some very cool adventurous stories in this podcast episode.
Show Notes
Everyone is a negotiator. The key is learning to think like one.  By practicing and doing it you become more confident.
In this show we discuss:
Why everyone can benefit from thinking like a negotiator
How there is no substitute for practicing (and some low-stakes ways to sharpen your skills)
The importance of negotiating capacity for yourself as a business owner
Why getting everything in writing is of paramount importance (and how easy that is with today's technology as even a text message will do)
Doing things that stretch you make you more confident – as a negotiator, business owner, mother, and more.  Confidence is captivating and vital to moving forward.  How to do you get the confidence to try new things?  Eldonna says,  "Dare to Suck".  I love that advice.
My kind of business owner, Eldonna has an "Adventure List" and she is clear how each of these experiences builds confidence.  In particular, you won't want to miss her story about riding a motorcycle up the wall of death.
Eldonna is a retired Air Force veteran with 23 years of honorable military service.  She is a negotiation and contracts expert with over 30 years of leadership, contracts management and negotiation experience.  She has negotiated contracts from $1 to over $100 million both stateside and internationally.  She was deployed to the Middle East after 911 and has years of experience in foreign acquisition.
She specializes in  training people how to think like a negotiator by creating win win results and understanding the pitfalls to avoid.  She is an international award winning speaker and an award winning author. Get more at ThinkLikeaNegotiator.com.
Links Mentioned in the Show
Subscribe so you don't miss an episode!
Stitcher
Regular RSS Feed
Plain-ole RSS
If you have a chance, please leave an honest review of the podcast here. I really appreciate it!
Not sure how to subscribe, rate, or review? No problem! Here's a quick video tutorial of how to do just that.