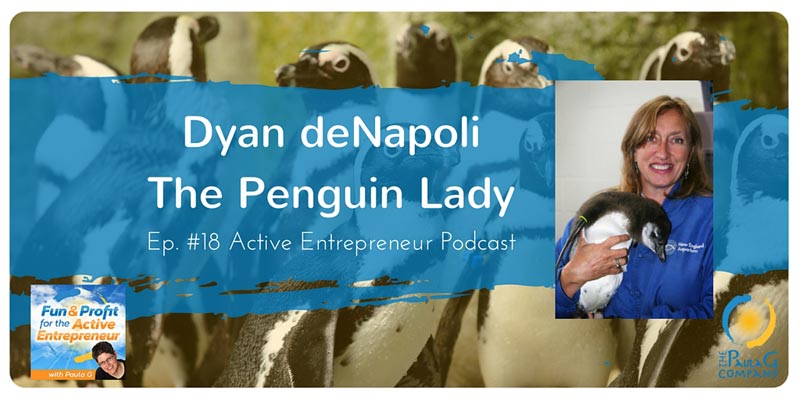 What could be cooler than taking several career leaps of faith to pursue your dreams?  Working with penguins, rescuing tens of thousands of them, and now working tirelessly to raise awareness and funding to protect endangered penguins.  Today we talk with Dyan deNapoli, The Penguin Lady.
First, a bit about Dyan…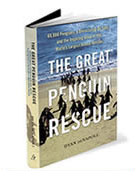 Dyan deNapoli is a penguin expert, TED speaker, and author of the award-winning book, The Great Penguin Rescue. A former Senior Penguin Aquarist at Boston's New England Aquarium, Dyan travels the world as The Penguin Lady, teaching children and adults about penguin biology and conservation, and inspiring audience members to pursue their dreams. She was recently selected as one of 78 women from around the world for Homeward Bound, a women-in-science leadership-development project studying climate change in Antarctica. Dyan is a frequent guest on local and international radio and TV, including CNN and the BBC. She has spoken at four TEDx conferences, and has written and narrated a video about penguin conservation for TED–Ed. Her TEDx talk about her experiences helping to save 40,000 penguins from an oil spill in South Africa is featured on the main TED website.
Show Notes
What a delightful conversation we had!  Major themes we covered:
Dyan taking a risk to pursue her lifelong dream of working with dolphins.
Heading back to school to get another degree so she could work with penguins.
What it is like to be a senior penguin aquarist at a major aquarium.
The great penguin rescue and her experiences helping to save 40,000 penguins from an oil spill in South Africa.
Taking another leap of faith as she moved into being an entrepreneur.
What it's like to run a business focused on teaching, speaking, penguin conversation, and encouraging others to pursue their dreams.
Tips for finding your passion and that thing you wonder about doing (and don't want to regret not doing when you reach your deathbed).
Why so many penguins are in danger and how you can help them through the little actions you take each and every day.
How working your butt off is part of the deal for making great opportunities happen.
And more… frankly we could've talked for hours on any one of the themes we touched on.
Links
Subscribe so you don't miss an episode!
Stitcher
Regular RSS Feed
Plain-ole RSS
If you have a chance, please leave an honest review of the podcast here. I really appreciate it!
Not sure how to subscribe, rate, or review? No problem! Here's a quick video tutorial of how to do just that.