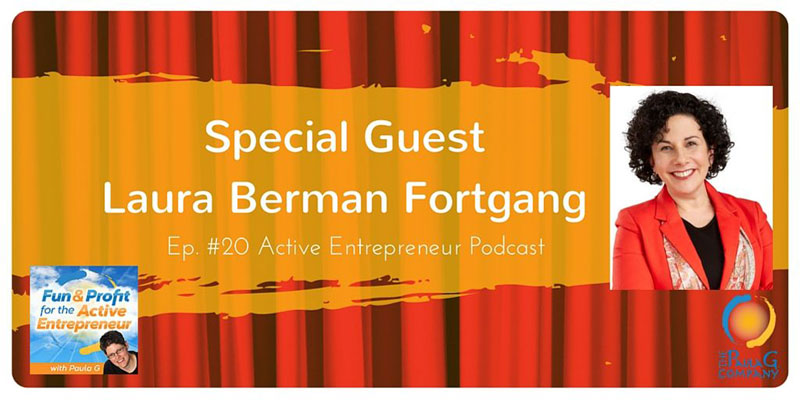 I am thrilled to have Laura Berman Fortgang with me for today's episode. Laura's work has been very important and impactful on my personal and business life over the last 13+ years and her sharp, sassy, and multi-talented style brings me joy and inspiration.  She knows what it takes to run a successful business that spans several decades and she does it while regularly reinventing herself and being a wife and mother to three.  Listen in!
A little about Laura…
(you can find her complete bio here):
Laura's professional life is anchored by her international reputation as a pioneer in the personal coaching field. Only one expression of her twenty plus years of supporting people to find meaning, purpose and satisfaction in their lives, Laura is also a best-selling author, sought-after speaker, corporate spokesperson, performer and interfaith minister.
Laura's years as a professional musical theatre performer helped form her nononsense, entertaining writing and speaking style that has helped her uplifting messages spread far and wide. She is the best-selling author of five books now published in 12 languages. They include: The Prosperity Plan, Now What?® 90 Days to a New Life Direction, Living Your Best Life, Take Yourself to the Top and The Little Book On Meaning which was a finalist for a Books for a Better Life award alongside the Dalai Lama.
Laura has also been a media perennial for years. Her appearances on Oprah, The CBS Early Show, NBC's Today, Good Morning America, various nationally syndicated and cable outlets as well as a long stint as contributing editor for Redbook Magazine and as a Huffington post blogger has helped her reach millions of people who want to improve their work and life.
And WE are lucky enough to have her on the show!
Show Notes & Highlights:
We covered a great deal of ground in our conversation.
Some highlights:
The importance of being intentional when choosing to do a TED talk
Reinventing yourself on a regular basis to stay inspired (even if it doesn't involve a reinvention of your core business)
Taking on less than ideal clients is a drain not worth the short-term gain
Prune and delegate so you are only doing the tasks of high value
Saying no is A-OK (and necessary part of being a business owner)
The genesis of Life Coach Lurlene (and I was thrilled to learn there is a white trash name generator, because you never know when the creative need might arise.)
Why asking better questions will lead you to the answers you seek
How Laura is helping guide the adults who are guiding young adults with career decision making
Why going goal-less can be more powerful than having a list of goals
Links
Subscribe so you don't miss an episode!
Stitcher
Regular RSS Feed
Plain-ole RSS
If you have a chance, please leave an honest review of the podcast here. I really appreciate it!
Not sure how to subscribe, rate, or review? No problem! Here's a quick video tutorial of how to do just that.