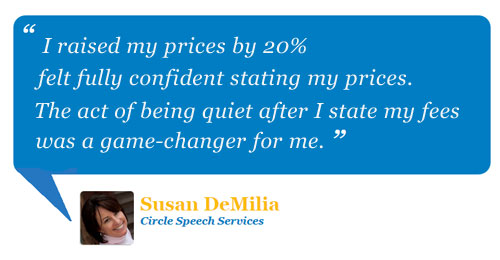 There are times (usually transitions, stuck points, or growth spurts) when every business owner needs some perspective and practical help.
That's where I come in. My approach called intuitive intelligence is a unique blend of inner awareness and practical action.
Imagine what it would be like to finally work with someone who "gets you" and can help you achieve your goals. I'm here to give you practical hands-on support to help you create a business you can count on that  gives you the freedom you chose this path for in the first place.
When you work with me we get practical and get stuff done.
There are 3 main ways I work with my clients (and sometimes I do a little of all 3):
Empower, advise, coach,

and hold you accountable to do it
Do it with you
Do it for you (and take it right off your plate)
Want to know exactly how I can help you? Grab this detailed list of the areas of expertise I offer through my coaching and consulting.
Why Work with Me?
There are a lot of coaches and consultants out there and their capabilities vary from someone who just hung out a shingle because they like to give advice to seasoned pros. So why would you want to work with me?
I am unique in that I bridge the gap between big picture thinking and solid here and now execution. I do this in a way that fiercely honors what you most yearn for not only from your business but from your one wild and precious life as well. You can count on me to keep it real and bring humor to the mix while also opening to possibilities and honoring your deepest dreams.
I have been behind the scenes of business for 25 years+ and have been trusted with improving business processes, managing financials, and developing technology for solopreneurs and small businesses as well as Fortune 100 size global companies like Merck, Saint-Gobain CertainTeed, Deloitte & Touche, and PPL. That means I understand what is critical for business success at any level but don't believe it has to look a certain way. My lifelong quest for personal freedom and meaning combined with a knack for non-conformity means that I refuse to put anyone in a box and believe with every fiber of my being that there is no such thing as success unless it is on your own terms.
You might catch my passion for personalized service and down-to-earth approach (not to mention my dislike of the "celebrity entrepreneur" trend and guru effect) by reading my manifesto: An Open Letter to Entrepreneurs.
Ready to Get Started?

Only you know deep in your heart how you feel about what's happening (or not happening) in your business.
Maybe you are feeling:
Excited and maybe a little scared about a big growth spurt as you take things to the next level,
Exhausted and overwhelmed by how much there is to learn and do,
Tortured and frustrated about lack of results.
Are you ready to create a clear path to profit and the freedom that you truly yearn for now?
If so, seize the moment and book a discovery session. It's complimentary so that we can get to know one another and determine if we're a fit to work together.
My commitment is that this session will give you crystal clear clarity on where your business is right now and the next steps you personally need to take to make your business as healthy and vibrant as it can be.
Before you procrastinate, seize the moment. This could be the turning point you're waiting for! Click here to start.