Your Choices and Corresponding Pro's & Con's
So you failed the Google Mobile Friendly test and you're worried about its impact on your business. But, you don't know what options you have and what the different options really mean. You've come to the right place.
There are only a few ways you can make your website mobile friendly. I will detail them here. You need to realize that mobile friendly does not necessarily mean fully mobile optimized. The impact of speed and performance becomes even more apparent on a mobile device. That said I am a believer in taking baby steps in the order and size that makes sense for you and your business right here, right now.
Don't get duped into a super expensive or a cheap quick fix without knowing the whole story. Let me help you understand your options and the impact in plain English.
[clickToTweet tweet="Don't get duped into a super expensive or a cheap quick fix for #mobile #websites w/o knowing the whole story." quote="Don't get duped into a super expensive or a cheap quick fix without knowing the whole story."]
Basically you have 4 options if you're on a WordPress based website and 2 options if you have a static straight up HTML website. If you're running different CMS software, you can find specific guides for those here.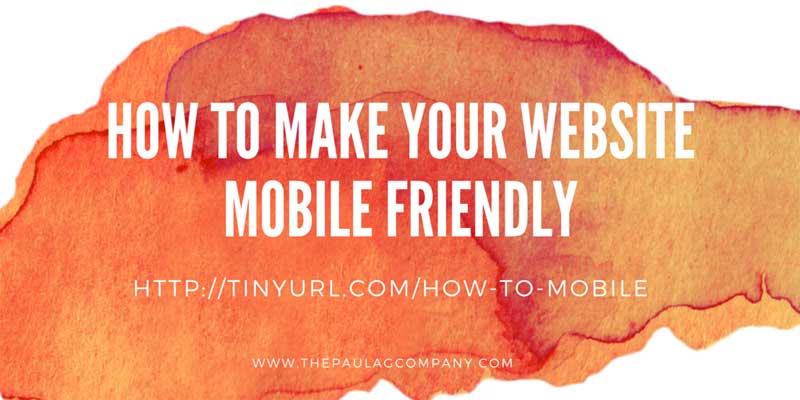 Quick, Fast, Free Mobile Software (WordPress only)
One of the fastest ways to pass the mobile friendly test is to use a free mobile WordPress plugin that will use a default, basic mobile-only theme to render your site on small devices. There are a few good ones out there. WPTouch is my personal favorite.
Pro's – Fast, free
Con's – very little customization, your site branding and design don't get displayed, less optimized, usually a short-term solution.
Beware: Before you do ANYTHING to your site EVER, you need to have complete, known-good backups, know how to navigate the upgrade process, and be capable of fixing any unexpected things that arise. Think I am overreacting? Read this!
This is a DIY option. If you don't want to DIY, see the next option.
Low Cost Pro-Level Mobile Plugin (WordPress only)
This is the next fastest and inexpensive way to pass the mobile friendly test. Once again this plugin will use a mobile-only theme to render your site on small devices (not the fancy design you paid to have developed for your website). That said, the pro-level plugins come with some extremely well designed themes from which to choose. With a little customization, the addition of your brand colors and logo, and it's a pretty sweet choice for a low-cost, fast solution.
Pro's – Relatively fast, lower cost, more customizations which means you can brand your user's experience even if it is not the full experience of your desktop branding. A great short-term to medium-term solution.
Con's – your desktop design you paid so much for is not used at all, customization is limited to options plugin provides (but good ones offer darn good options), eventually you will still likely want a fully mobile-responsive design consistent across devices.
Overall a great, cost-effective way to reap the benefits of being mobile friendly according to Google and create a better user experience for your prospects.
Ready to take this route? I will install and customize the installation of WPTouch Pro for you and ensure everything is working smoothly and you pass the mobile-friendly test.
Your investment: $ 247
 (Price assumes you are running the most recent version of WordPress and plugins. If not, an additional fee applies.)
Redesign Your Site Using Mobile-Responsive Code/Theme
This is where you employ the process of redesigning your website (a little or a lot).  You might take the opportunity to do a full-on site redesign if your website has been around for more than 3 years. Or, you might simply do a quick facelift where you change the design minimally but move it all to a mobile responsive code/theme.
Pro's – a longer-term solution with far more options for customizing your user's experience and showcasing your branding.
Con's – larger investment of time and money (but could be most cost-effective over time).
If this solution feels like the right option for you, we should talk. (Prices starting at $997).
 Retrofit Your Existing Site
This choice involves taking a site that is not mobile responsive and retrofitting the code so it behaves in a mobile-friendly way. In this case, you want to do a thorough cost/benefit analysis between this option and redesigning your site. Sometimes it frankly does not make sense to retrofit because the effort, cost, and results are not worth it. As the saying goes, sometimes the juice is not worth the squeeze.
Pro's – you keep your branding and design while giving users a mobile friendly experience.
Con's – a larger investment of time and money. The cost and effort might be better invested in redesigning the site.
If this solution feels like the right option for you, we should talk. (Prices vary).
 Do Nothing
While doing nothing is technically an option, for any business wanting to be in business for any length of time, the time is at hand to embrace and adapt for mobile. It's not going away. Even if you don't personally use a smartphone, your customers do.
Still not sure which option is best for you but know you want to do something?
Contact me and let's talk. I will help guide you to a solid decision.