I admit — I take some things that I do every day for granted.  I recently helped a client stop ripping her hair out in frustration by showing her how easy it is to add an image to a blog post.
So let me help you stop a few gray hairs as well!
First off, the web and social media are becoming more and more a visual medium.  That means a picture is worth more than a thousand words.  You will want to have images in your blog posts and use those images when you share your content across the web.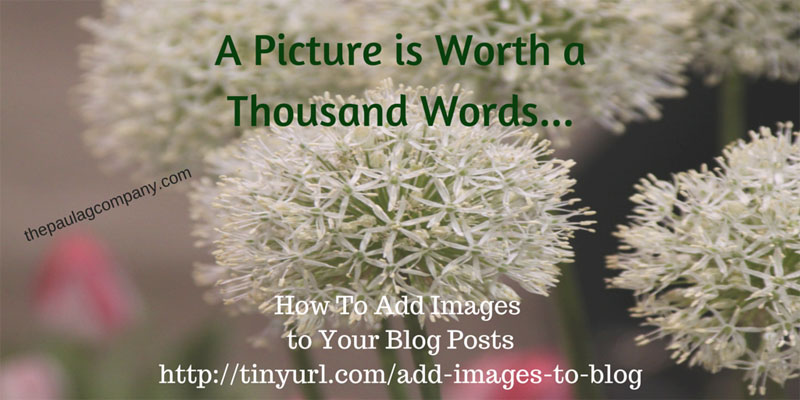 Every day it gets easier and easier to add images to your content.  While my example below assumes your website is built on WordPress, know that most content management system sites have a similar interface.  A WYSIWYG toolbar is pretty darn standard.  What that means for you is — if you follow the steps below, you should be able to do something pretty darn close to get the results you want even if you are not on WordPress.
Adding an Image
1)  Open to a new blog post/edit an existing blog post.
2) Click the insert image icon from your toolbar. In WordPress it is "Add Media":


3) Then you have one of two choices — choose a file you already uploaded, or upload a new file. Let's upload a new file:
4) Choose – Upload Images

5) Choose the image from your computer and upload

6) Then change the size, alignment, and insert into the post (you can always edit this later)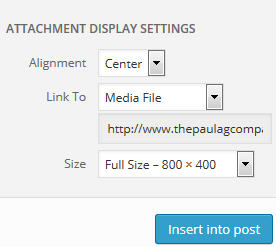 7) For added credit – add an "Alt text" for SEO keywords on your image

8) Then hit the blue button Insert into post

9) And voila!  You have images in your blog post.
If you want to add an image that already exists in your media library. Follow the above up to step 3 and then choose "Media Library" and select your image:
The rest of the steps are the same!
Note: If you are not using WordPress, the exact steps will be different. The key is to find the insert image icon on your toolbar. It will usually have an icon of a picture or something similar to this:

Hover your mouse over toolbar items until you see something like "insert image" or "insert picture" and then click that.  Follow the prompts from there.
Want someone who is willing to do things with you or for you so your to-do list gets shorter and you feel more productive?  Look no further. I can help you with small and big things alike. Contact me for a complimentary discovery session and discover how much lighter your load can feel.