Referrals are the holy grail of a sustainable business. Prospects that come to you via referral tend to:
Convert to clients more easily
Be high quality/good fit
Require less money and effort to acquire
Often these clients turn into long-term and repeat customers.
Yet for many business owners referrals can seem as mysterious and elusive as the actual holy grail. So how can you get more of them?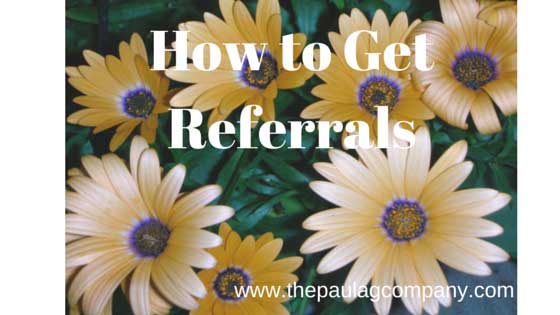 You need to cultivate the right relationships and then ask.
Finding Referral Partners
You want to find someone who serves your ideal clients in a complimentary (but not competing) manner. The best referral partnerships are ones that help solve a problem your ideal client has that arises naturally as a result of the work they do. For example, a natural referral partnership could exist between a bookkeeper and a CPA or a graphic designer and web programmer. In this way referring business to each other becomes a natural extension of the conversations you have with your clients.
Cultivating Referral Relationships

The first thing to know is that. Creating value for others, helping people out, and approaching connections with a "give first" attitude is a must. You want to do good work and be someone people would naturally want to refer business to. It takes time to build this level of know, like, and trust factor with others. When someone gives a referral it is his or her reputation that is on the line. Be someone who is referral worthy.
[clickToTweet tweet="All referrals begin with good relationships. Be referral worthy. via @paulag01″ quote="All referrals begin with good relationships. Be referral worthy."]
Ask
If you want to receive referrals you have to ask for them. That sounds obvious and yet so often business owners run around hoping and pining for referrals but never ask directly and specifically for them. If you have found someone who might make a great referral partner for you and you've already invested time and energy cultivating a positive relationship, ask them straight away if they would like to explore being referral partners. Then talk specifically about what would make a great referral for each of you and how you would like to receive referrals. Do you want them to email you? Give you a call? Pass on the prospects information to you (preferred so you can follow up)? Give your information to the prospect? Clear communication and boundaries create effective partnerships.
 Promptly Give Thanks for Referrals You Receive
Whether a prospect becomes a client or not, be certain to thank anyone who sends a prospect your way. A simple handwritten note goes a long way. A small token of thanks can also be appropriate and a welcome surprise. If you have created a formal referral relationship with someone that includes a referral fee, pay promptly according to your agreement. Don't underestimate the importance of this step. People like to feel appreciated and nothing feels worse than sending business to someone and never receiving an acknowledgment or word of thanks. Continue to cultivate good relationships and say thank you.
Then do good work. Taking good care of all your clients is the key to repeat business, referrals, and all things good.
Is your business growing slower than you would like? You can't fix it without understanding what's what and where to focus your efforts.  Get the Freedom & Profit Worksheet (FREE) and learn how to use  the most powerful business growth tool available to you. Click here to get it now!