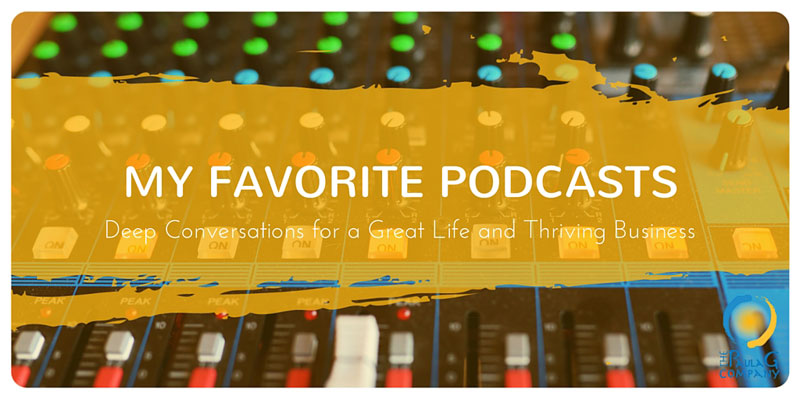 I've been listening to podcasts since they first hit the airwaves over a decade ago. In the last year or so I have been listening more and more.
In the last year I've listened not just as a consumer of the episodes but also as a podcast producer myself. That dual-listening perspective has me marveling about what I consider worthy of my time (or not). No matter how hard I try, I can't put myself into a "podcast box" and frankly I don't want to be in one.
The following roundup are my favorite must-listen-to's of the past year and remain there as 2016 hums along. I can guarantee you will not find the usual list of business podcasts here. My mind is saturated with business talk and frankly weary of the latest, greatest, hottest, "must-do" tips. While I may peek in and out of some business podcasts from time to time (a great topic, interesting guest, etc.), very few are on my "always listen" list. I prefer to learn tactical business implementation by reading or self-selected classes so I can get it done quickly and only tend to what is essential.
I believe there is an awful lot to learn about business success and living a good life from unexpected sources. It's why I love purposeful tangents so much. It breathes new life into what I'm doing and reignites what I already know while opening my eyes to something new and overlooked.
Here are my current favorites (in no particular order):
The Minimalists Podcast
The Minimalists podcast features Joshua Field Millburn and Ryan Nicodemus furthering the conversation about living a meaningful life with less stuff. This is the newest podcast in my rotation but the conversation has been forefront in my mind the last few years. They will get you thinking differently about engaging in the rat race to accumulate more stuff hoping that somehow that will make you happier (it won't).
Find out more and subscribe: http://www.theminimalists.com/podcast/
BlogAid Podcast
This is my go-to podcast for staying on top of tech and WordPress developments. It takes a village to know and understand what goes on given the rate of developments in technology, SEO, security, performance, and more. MaAnna Stephenson is a techie's techie and has that rare gift of being able to teach non-geeks (I know how rare it is.. as I fall into that "guide between the worlds" camp too.). The woman eat, sleeps, and breathes this stuff and I trust her to give me quality, vetted information I can use right away in my business.
Find out more and subscribe: http://www.blogaid.net/category/podcast/
OnBeing Podcast
When I grow up I want to interview like Krista Tippett. The sheer variety of guests she has on this show. Answering the question, "What does it mean to be human and how do we want to live?" the show is rich and you will find yourself listening to episodes more than once. Who do you want to BE in the world? If you're not thinking about this as a business owner, you're missing the boat.
Find out more and subscribe: http://www.onbeing.org/programs/latest
Good Life Project Podcast
I've been listening to Jonathan Fields' podcast since the beginning. If ever there were a phrase that resonated with me, "A Good Life", is it. Let's remember the one Mary Oliver quote that fuels my life. With his diverse entrepreneurial background and knack for tapping into people and topics that delight and challenge, every episode is like a satisfying meal.
Find out more and subscribe: http://www.goodlifeproject.com/radio/
Cycling360
I was delighted to discover this podcast last year. What I love about it is that the content is not only entertaining but also useful for cyclists at all levels. You don't have to be a racing cyclist or even an obsessive one to learn from Darryl Kotyk and Victor Jimenez. There's a lot to be learned here that can be applied to business as well (like for instance taking time away from the bike as an analogy for getting off your butt and away from the computer).  It also helps me stay motivated about riding and doing so within my goals (not the thrum of the crowd that I can't keep up with).
Find out more and subscribe: http://www.cycling360media.com/
The RobCast
I have no idea how I ended up at this podcast. I likely ended up here because Elizabeth Gilbert was a guest. Yet I have found Rob Bell's conversations and personality to be quirky and infectious. While I usually run from conversations that get too biblical or churchy, there's something about the way he unpacks things and invites you to throw out all the junk that isn't working for you (say arcane rules of your local church) that keeps me coming back. I only wish I were closer to LA when he does his live events for entrepreneurs! Come east!

Find out more and subscribe: http://robbell.com/portfolio/robcast/
Death, Sex, and Money
The show tagline calls it a podcast about the big questions and hard choices that are often left out of polite conversations. Host Anna Sale makes light work of the heavy lifting in these very diverse episodes. I know in business there are big questions and hard choices that are almost always left out of public conversations… I hope this podcast will inspire you to explore them more.
Find out more and subscribe: http://www.wnyc.org/shows/deathsexmoney/
More…
In 2015 I launched my own Fun & Profit for the Active Entrepreneur Podcast. I take inspiration from my favorite shows and attempt to bring the bigger questions to light.   If you haven't listening in yet, please do and leave me your feedback in a review.
In the world of sound bites and content that leaves you yearning, I continue to listen to these podcasts because they get me thinking more deeply and across a wider expanse than "just the latest business thing".
Let me know what you think! I hope I've turned you on to at least one new resource that will serve.