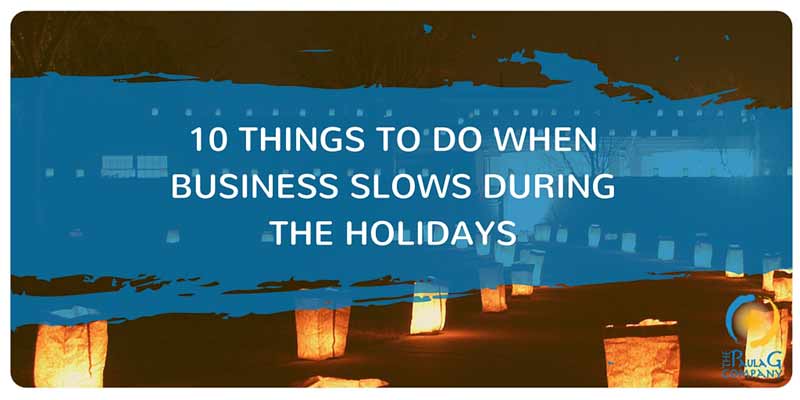 For many small and solo business owners (especially service based businesses), the holidays are a time when things slow down. So, how can you make the most productive use of this time?
There's the school of thought that says "give up on making anything happen because everyone is too busy and no one is buying services at this time". Then there's the other camp that says "make a year-end push to boost your sales". I don't fall into either camp favoring a rhythm and strategy that suits you best. One that is neither all push nor an excuse to write off the month of December as hopeless.
Don't wander aimlessly through the days wondering what to do and then realize you didn't accomplish anything nor have a good time.
Here are 10 ideas that are guaranteed to help you and your business thrive through the holidays.
1) Wrap Up Project Work
Sometimes end of year is not slow. Whether you are in a flurry of projects or have just a trickle, take some time to wrap them up with a bow. Complete what you
can and get to a good transition spot in others so that you don't feel like there are a myriad of things partially done or hanging in limbo. Communicate these timelines with customers.
2) Make a Personal Connection
The sales cycle doesn't cease to exist just because it is December. Make those connections and calls. Follow up with people. Now is a great time to make a connection, have a conversation, and set the stage for future work together. Even if someone says "I need to wait until after the holidays", that's ok. Set a date to reconnect and organize your follow-ups accordingly. Don't allow the excuse of "it's the holidays" (which frankly seems to start in October these days) lead you down a path of inaction. Relationships are built and nurtured all the time.
3) Express Gratitude
Take time to send thank you and holiday cards or gifts to clients and other people who make a difference in your life and business. Nothing says you have to send a holiday gift on or by a certain date. Expressing how you truly feel in an authentic way is welcome all the time. Grab your favorite beverage, a comfy chair, and take a moment for this important task.
4) Evaluate and Assess
Sit down and do a year-in-review for your business. Evaluate what's working and what's not. Assess performance of marketing, financials, and other key metrics (such as the metrics of fun and ease for instance). What have you learned about yourself and your business in the past year? How will this awareness shift what you do next year?
5) Get Organized
Purge files. Warm up the shredder. Clean off your desk. Delete old emails and files. Create a ritual around releasing what is no longer needed and creating space for what you want to create in the new year. Put on some great tunes or a movie and enjoy the process of getting to the messes that usually get pushed off. [Read more…]