[single_testimonial id="5538″ show_date="0″]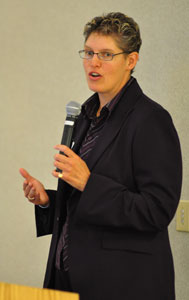 With the "tell-it-like it is" honesty, authenticity, and humor Paula G is known for, her presentations will inspire you and give you practical tips that will help you grow yourself and your business.
Contact Paula about speaking to your organization!
Choose One of These Powerful Presentations:
The Art of Pain-Free Profitability: Adventures in Doing Less and Earning More
The push to always be "growing your business" is creating overwhelmed, burned out business owners who feel like they spend their days running on a hamster wheel trying to outrun an impending avalanche.  In this dynamic presentation you will learn how to break out of entrepreneurial servitude and into profitability by using 6 key indicators of business health as your compass.
Heal Your Website Shame: 5 Common Website Mistakes You Must Avoid So Your Site Makes You More Money
There are ways that websites are literally leaking money. It's worse than having a hole in your pocket! If you have a site but it isn't working for you as much as you desire, then you can't afford to sit back, feel ashamed, or wonder what to do. Come learn exactly what you need to do and where to start!

Stop Managing Time! Surprisingly Simple Strategies for Getting Things Done & Enjoying the Journey
Traditional time management doesn't work in today's hyper-connected world. Trying to force it to work can feel like rearranging the deck chairs on the Titanic. Learn how to achieve twice as much in half the time while bringing more meaning and sanity to your day in this interactive and practical presentation.
*Presentations offered as keynotes, half-day, full-day trainings or retreats. All training/presentations can be linked to an ongoing coaching program. All events are customized to meet the needs of your organization and audience.  
Contact Paula today to book her for your next event!