I see so many business owners float through the days, months, and years without truly knowing how their business is doing. They steer the ship by guessing and hoping. Now I am an advocate of trusting your intuition, listening to your gut, and not always letting your head rule your choices. But let's not confuse intuitive intelligence with sticking your head in the sand and hoping.
Measuring matters. Period. It doesn't have to be scary, intimidating, or take up a lot of time. Most working mothers managed to put little pencil marks on the wall to measure their kid's growth, right? It doesn't have to be harder than that in your business.
You don't have to be a numbers geek to succeed in business or use a spreadsheet. Scared of spreadsheets? Get creative… use marbles in glass jars if you have to, but have a tangible way to gauge the results of the actions you take.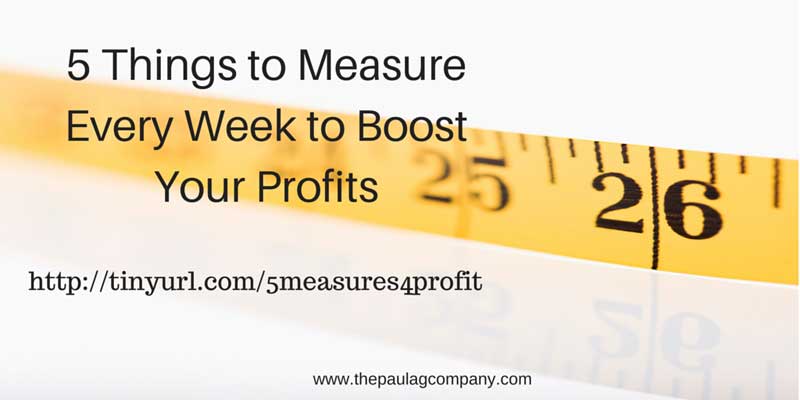 Here are 5 things to measure every week. Start tracking these consistently and you will have business intelligence worth yearning for that will lead you to higher and more consistent profits.
Money
I personally track money on a daily basis.
What money has been committed (aka new contracts being signed)
What money has been received (actually deposited, no "the check's in the mail" nonsense).
Equally important is what money is being spent. I track this weekly.
Time
Where are you spending your time each day?
Are you?
Delivering services to clients?
Marketing?
Engaged in sales conversation?
Traveling?
Doing administrative tasks?
Know what you are doing and how long it is taking you. Time is one of the 3 elements of profit. I might add that to me time is the most precious of all the factors because how we spend our time is how we spend our life. [Read more…]